Executive Team [ Sabre West Africa ]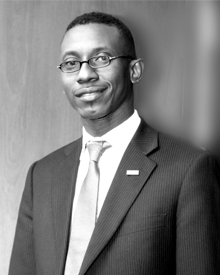 Emmanuel . O. Isola
Vice President I - Sabre West Africa
Mr. Isola holds a B.sc degree in Economics and MBA degree with specialization in Human Resources Management, a post graduate diploma in Desktop Publishing and Data processing. An Associate member of Nigeria Institute of Management (AMNIM) and a pioneer member of Kwara State NYSC Tourism Club. He has added various Airline certificates in automated reservation system.
Prior to his career in Sabre, Mr Isola worked as a Management Trainee with Uda Community Bank and as a Personel Banker at First Bank of Nigeria in 2000-2001.
He joined Interguide Air Ltd. in 2001 and was appointed Head of Agency in 2002, with the responsibility for worldwide Sales and Marketing, Network development, Revenue Management, Service development and overall management supervision of the agency.